Lindgren Haus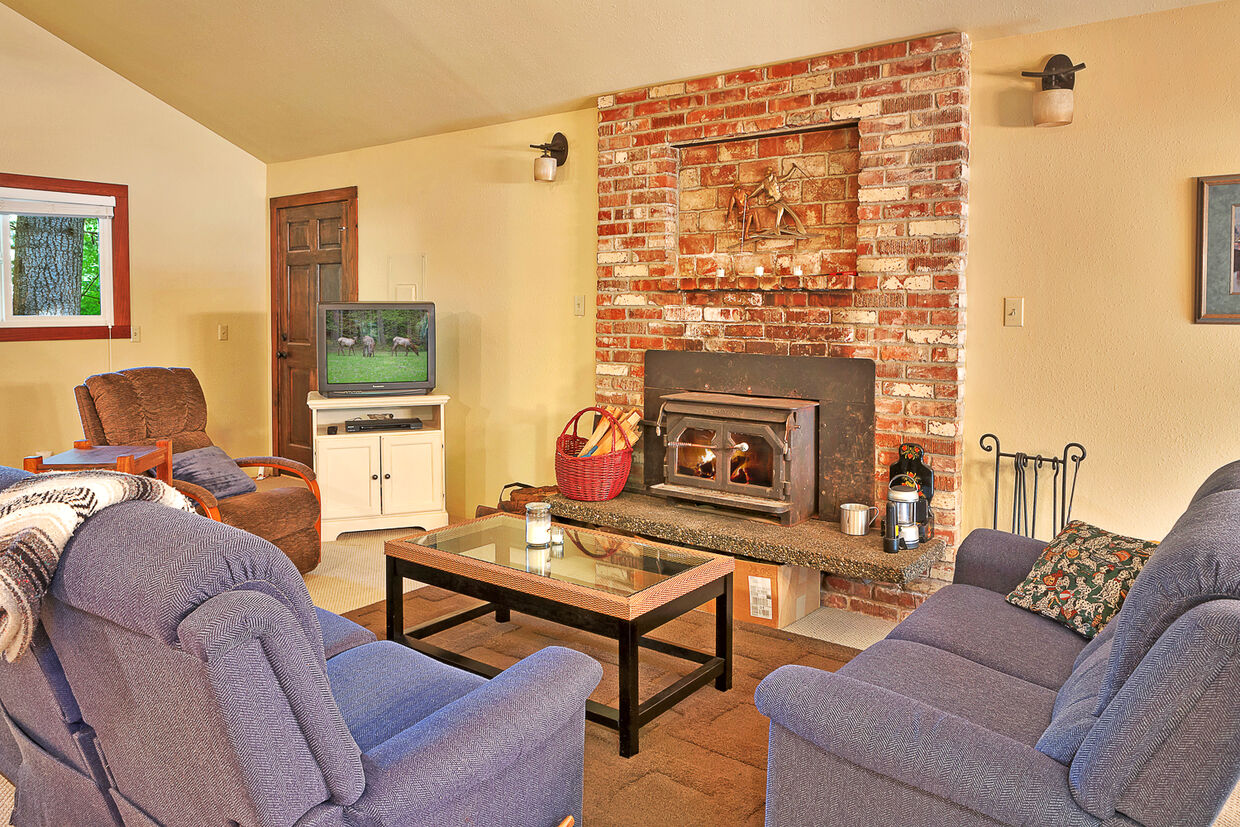 Do you have 5 or 6 friends (or family members) looking to enjoy a cabin getaway nestled away within the woods near Crystal Mountain? Rather, does your dream vacation consist of being secluded with only 150 foot-tall trees surrounding you? If you answered yes to both of those, then you've found your getaway spot!
About Lindgren Haus
The Lindgren Haus is a cozy cabin with big windows, comfy chairs, and there's one bedroom with a queen sized bed. Make your way up the stairs and you'll find the loft which holds a king sized bed and a futon couch.
If you'd rather not leave this cozy spot, there's plenty of amenities to entertain you: the reclining chairs in the living room are perfect for reading a good book, the full kitchen is ready for whatever woodsy confections you want to cook up, and the card table is ready for whatever game you fancy.
Don't expect to rely on electronics here. Because you're so buried within the woods, remember to bring your favorite board games and DVD's. The television works great for viewing your favorite movies. Stay warm by the fireplace while you have movie or game night!
What Guests Have to Say:
"Great rental property close to Crystal Mountain and Mt. Rainier. Will definitely stay again!" -Ann
"Easy access to ski slopes. Beautiful location close to forest service roads for hiking. Friendly staff. Pet friendly. Comfortable for a close family." - Carmella
More about Lindgren Haus
Although the resort isn't in your backyard, it's definitely worth the drive. This is THE place to ski within the state of Washington.
We're sure you'll enjoy Lindgren Haus, whether it be with ski adventures or just a secluded woodsy getaway.
Staying here gives you instant access to some of the most pristine woods in the Pacific North West.
Those towering timbers look magical during both summer and winter. That vibrant green moss covers the bark when it's warm out, while the frosty snow always makes an appearance on the branches during the colder months.
Nestled in a small clearing amongst mountain pines, you'll feel like you're the only people in the world. You'll be thankful you aren't that isolated however, because Crystal Ski Resort is just under 20 miles away! Dogs are welcome with our standard, per dog, per night fee.
About Greenwater
When booking any of our Greenwater, Crystal Mountain properties, you'll have the absolute BEST access to the nearby outdoor adventures that Mt. Rainier has to offer. The area has endless options for the entire family (or all of your friends) to dive into whether it be during the winter or the summer.
Thankfully the snow covered mountains offer more than just one activity! Hit the slopes to ski or snowboard. During the winter, some of the trails are open for hiking if you're feeling more adventurous.
Visiting us during the summer? That's perfect too! The many hiking trails that the area has to offer are sure to suit the whole family. Ranging from easy to difficult, the trails are all beneath towering old growth trees that are a sight to see. Every so often you'll get a glimpse of that beautiful peak as well.
About 6 miles from all of the properties, you'll find yourself at the Northeast Entrance to Mt. Rainier.
The Crystal Cabins Promise
Crystal Cabins is the only full-stack vacation rental management company in the area. We vow to make booking with us simple and exciting. While others know their way around it, we know that booking a rental property home for your vacation can be unfamiliar territory for some. Because we know this, we ensure that each of our properties are up to high quality standards.
We do our absolute best to provide support to our guests when booking.
We are available to assist you every day of the year if you have any questions or concerns before, during or even after your visit to our home. We have onsite property management available 24/7 for anything concerning that may arise.
Wood stove
Starry Starry Nights
Card Table
Name: Lindgren Haus
Status: Active
Rating:

Type: Cabin
Country: United States
State: Washington State
Destination: Mount Rainier
Location: Greenwater
Cabins: Crystal River Ranch
Setting: Mountain Area
View: Full Territorial View
Internet: Yes
Sq. Ft: 800
Floors: 2
Entrance Floor: 1
Bedrooms: 1½
Beds: KQC
Bunks: Yes
Lofts: 1
Baths: 1
Normal Occupancy: 4
Sleeps: 6
Max Occupancy: 8
Parking: 2
Pets: Dogs
Checkin: 05:00 pm or later
Checkout: 11:00 am or earlier
Website: LindgrenHaus.com
Manager: Crystal Cabins
License:
BED CODES: K=King, Q=Queen, F=Full, T=Twin, C=Futon Couch, M=Mattress, A=Air Mattress, L=Sleeper, S=Sofa, U=Trundle Bed, D=Day Bed