Sundeck Suite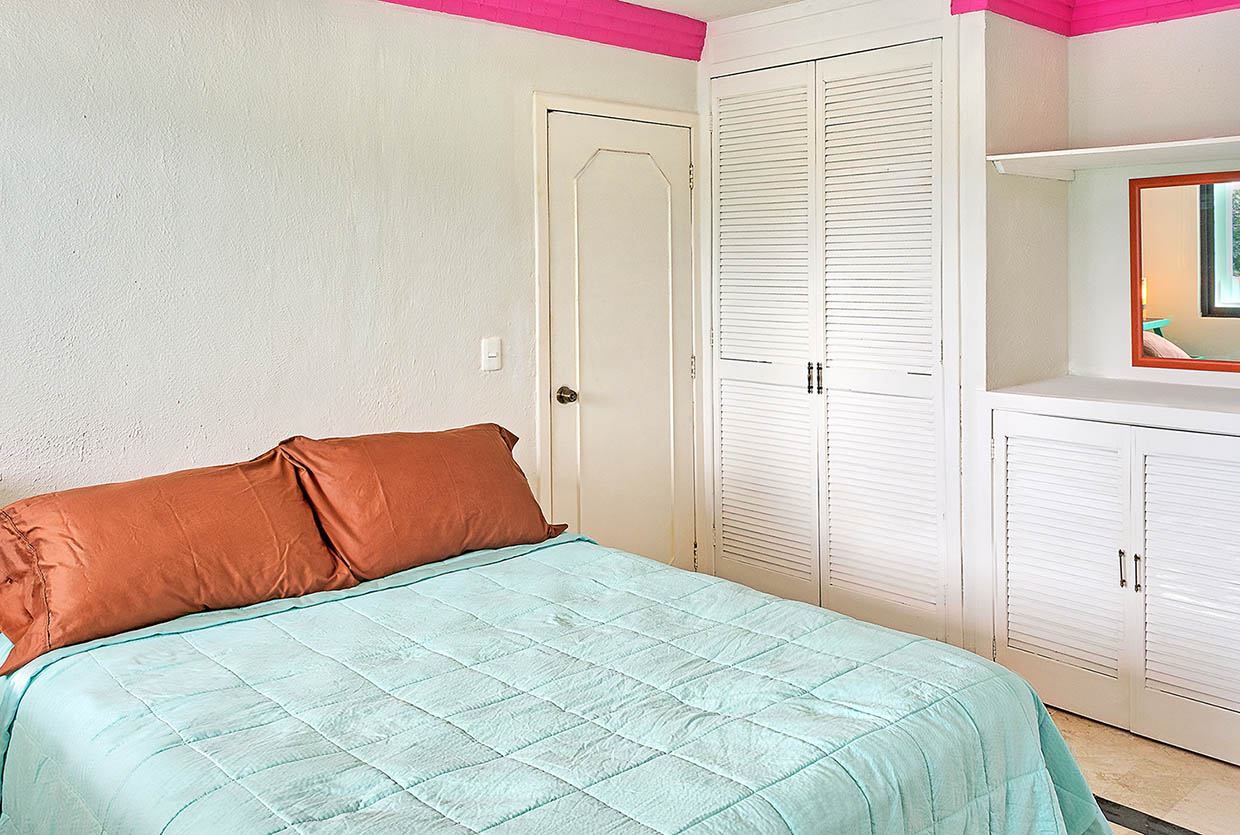 Have you ever heard of a second story seaside balcony that's 625 square feet in size? Well, now you have. Here at the Rosa Del Caribe facility, our Sundeck Suite has just that!
Located a block from the water, your view from this oversized balcony is partially of the sea. Bring your family or your friends and soak up the sun from the balcony. Better yet, grab a good read and relax while enjoying the sea breeze.
Sundeck Suite
Almost identical to our Captain's Suite, the only difference here is the balcony size.
It's similar in every other way and this suite, just like the Captain's, also has three bedrooms and three baths.
The master bedroom holds a king-sized bed, as well as a full-sized jetted tub to soak in after a long day beneath the sun. Make your way to the second bedroom, where you'll find another king-sized bed. The third and final bedroom downsizes a bit and holds a queen-sized bed.
If you're wondering what to do if you have more in your party … don't fret! This unit also has two fold-up canvas cots available, if needed! So bring your loved ones. Don't let them miss out on the beauty of Puerto Morelos.
If you're like us, you probably have a big list of loved ones that you want to bring along. We encourage that. Just no more than 8, please!
What Guests Have to Say
"Thank you for being so welcoming and helpful." - David
"Great Stay. Fantastic service. I really appreciated the prompt response to my questions. The apartment was very clean." - Tamiko
"Abraham, our host, along with his family and the owners, are all great people. They went above and beyond to make sure we had everything we needed." - Geza
More About Sundeck Suite
Relax in the spacious living/dining area by watching a movie on the flat screen TV. This includes Roku, as well as free WIFI. Even though you're on the Caribbean Coast, there's bound to be evenings where you'll want to cozy up and binge watch your favorite TV shows!
All throughout the suite there are windows that let in the beaming sunshine that you crave throughout the year when looking forward to your vacation.
In each of the bedrooms there are air conditioning units with their own remote controls. However, if you prefer the natural sea breeze, open the windows and enjoy the sound of the waves.
Puerto Morelos
The town of Puerto Morelos is located between two resorts known for their nightlife. While Puerto Morelos falls back and focuses on the culture and the sightseeing, it's the perfect location to lay back and relax.
If you're feeling adventurous, dive into the endless seaside attractions that go on throughout the town.
The town center square holds locally owned shops and hand crafted menu items at the restaurants, where they aim to hold onto their culture. Maintaining the preservation of the land, culture and sea is a big goal for every resident here. They cherish the beauty and spirit that the town holds.
The Sundeck Suite in Puerto Morelos is the best place to kick start your vacation. Enjoy the sea breeze, sunshine and the views from the ridiculously large, seaside balcony. Explore the spirited culture of town center square or just relax in the sand and enjoy the glistening blue sea.
The Caribe Suites Promise
Here at Caribe Suites, we vow to make booking with us simple and exciting. We know that booking a rental property home for your vacation can be unfamiliar territory for some, while others know their way around it. Because we know this, we ensure that each of our properties are up to high quality standards.
We do our absolute best to provide support to our guests when booking.
We are available to assist you every day of the year, if you have any questions or concerns before, during or after your visit to our home. We have onsite property management that is available 24/7 for anything concerning that may arise.
Outdoor Furniture
Patio Lounge Chairs
Jacuzzi Bath
Automobile Rental
Spanish Speaking Staff
English Speaking Staff
TV, Flat Screen
High Speed Wireless Internet
Ocean Swimming
300+ Days of Sunshine
Name: Sundeck Suite
Status: Active
Rating:

Type: Condo
Country: Mexico
State: Quintana Roo
Destination: Cancun
Location: Puerto Morelos
Condominiums: Caribe Suites
Building: Rosa Del Caribe
Setting: Beach Front Area
View: Partial Beach View
Internet: Yes
Floors: 4
Entrance Floor: 3
Bedrooms: 3
Beds: KKK
Bunks: No
Baths: 2½
Normal Occupancy: 4
Sleeps: 8
Max Occupancy: 9
Parking: 1
Pets: None
Checkin: 05:00 pm or later
Checkout: 11:00 am or earlier
Website: CaribeSuites.com
Manager: Caribe Suites Meico
BED CODES: K=King, Q=Queen, F=Full, T=Twin, C=Futon Couch, M=Mattress, A=Air Mattress, L=Sleeper, S=Sofa, U=Trundle Bed, D=Day Bed